Mezcal Artesanal
ZOMOZ is from Santiago Matatlán, Oaxaca, in the heart of the indigenous Zapotec region near Oaxaca City, the state's capital. Hand-crafted by fourth generation Maestra Mezcalera, Isabel Santiago at her family's organic agave plantation and palenque. ZOMOZ is made from two simple ingredients: organic Espadin and pure spring water. Honoring sacred, artisanal techniques, the agave is cooked underground in a conical stone oven fueled by ethically-sourced sustainable wood. After roasting, the agave hearts, called "pinas," are crushed using a traditional stone wheel "tahona," then fermented in open pine vats called "tinas." To achieve the pure, smooth ZOMOZ finish, the Mezcal is distilled twice in traditional copper pot stills then passed through a proprietary double filtration system before it is ultimately bottled.
BUY NOW
Flavor Profile
Color:
Crystal Clear. Platinum Liquescence.
Nose:
Subtly smoked agave, honey & butterscotch, gentle florality, roasted green chili and white pepper.
Palate:
Fresh agave, stone fruit, leather and a hint of vanilla give way to dry lemon and white pepper.
Finish:
Long smooth finish of lightly smoked and carmelized agave. Wild marigold, earthy minerality.
Two Ingredients. Agave & Water
100% ORGANIC. ZOMOZ MEZCAL is made from only two ingredients, agave and pure spring water. At ZOMOZ, we are social entrepreneurs committed to protecting and promoting our beautiful planet. That is why we make sure our product is compliant with environmental and health guidelines, allowing us to obtain U.S Organic certification.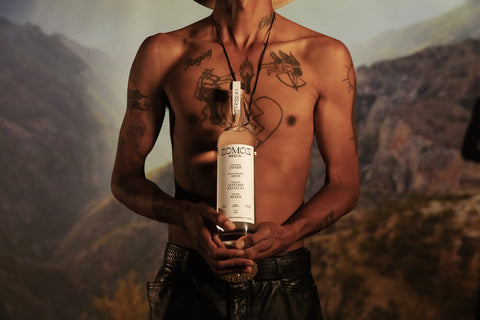 our spirit
Mexican owned and operated, every aspect of ZOMOZ is made and supervised by Mexican hands, eyes, and hearts. ZOMOZ respects and honors the traditions of Oaxaca and its intimate, spiritual relationship with Mezcal. With love and reverence, we fiercely protect our artesanal process with the sole intention of presenting to the world a product with the quality and character of our iconic Mexican Spirit.